Tech Liberty spokesperson Thomas Beagle will be presenting at a public forum about the TPP free trade treaty in Wellington on July 6th. The forum is organised by local Wellington group, TPP Action.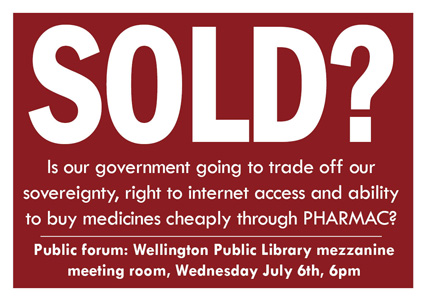 Details:

Are you concerned about more expensive medications through the loss of PHARMAC? Infringements on our civil liberties online? Loss of sovereignty?

The Trans Pacific Partnership Agreement (TPP) is being negotiated in secret by the United States jointly with several Asian countries including New Zealand. Initially based on the North American Free Trade Agreement the USA will seek to extract long term binding agreement to limit the New Zealand government's ability to make laws and adopt policies designed, for example, to stretch Pharmac's ability to provide medicines, or to limit promotion of tobacco products. All to the benefit of global corporations. The text of the agreement must be released so its provisions can be openly debated.

Speakers

Jane Kelsey – University of Auckland School of Law. Convenor of the 'Release the Text' campaign. Editor of No Ordinary Deal: Unmasking the Trans-Pacific partnership Free Trade Agreement

Des O'Day – lecturer in health economics in the Department of Public Health, University of Otago, Wellington. He has worked in the past for the Ministry of Health and Midland RHA. His areas of expertise include health services modelling, capitation and population funding formulae, and research into the links between income and health.

Thomas Beagle – co-founder and spokesperson for Tech Liberty. Tech Liberty is dedicated to protecting people's rights in the areas of the Internet and technology. They make submissions on public policy, help to educate people about their rights, and defend those whose rights are being infringed. Main issues they have focussed on include the Anti-Counterfeiting Trade Agreement (ACTA), the Copyright (Infringing File Sharing) Act, and the TPP

Meeting attendees – come along and ask questions or make brief comment

Location: Wellington Public Library – mezzanine meeting room
Date: July 6, Wednesday
Time: 6:00pm – 7:30pm

All welcome. There will be tea, coffee and biscuits after the meeting.